I have to say when I first saw this rest I thought it was going to be a "FOB extraction device". Was I surprised.
This rest is a different animal for sure. One of the more friendly full containment rests I have tested.
I set up the rest per manufactures instructions. I liked the fact that the instructions were detailed and explained why certain adjustments were critical.
After attaching the rest I set up the center shot and elevation. The instructions recommend to tie the pull cord 5-6 inches below the cable guard. Just the way I like! With all the rest I have tested, I like to tie the pull cord about level with the bottom of the grip/handle. That just so happens to be about 5-6 inches below the cable guard. Hurray for NAP!
The most critical adjustment I found on the rest is the hammer. The hammer actuates the rest. It looks somewhat like a hammer mechanism on a gun. The hammer at full draw needs to be at least pulled back to the center line to deliver enough force to release the spring set and open the rest.
I set the timing so at full draw - 1 inch of creep, the hammer was pulled back to the center. This way if you get a little creep, the hammer still has enough force to open the rest.
The rest took about 15 minutes to install. I shot a bare shat arrow a few times just to make sure the hammer was striking with enough force to open the rest. Then I purposely "creeped" about 1 inch and shot again. Put a FOB on the back and let her fly. Works like a charm!
The Sizzor rest is a 100% full captivation rest which offers full vane (or FOB) clearance. It also allows you to slowly let down and keep the arrow held. I also like the fact that they can not spell either! They misspelled sizzor (should be scissor) and I misspelled Starr (should be Star)
As with any rest, set up and timing is everything. I hope this write is informative and usefull.
Paul Morris
Pull Cord placement
[img]
[/img]
Hammer position at full draw (minimum level with center of rest)
[img]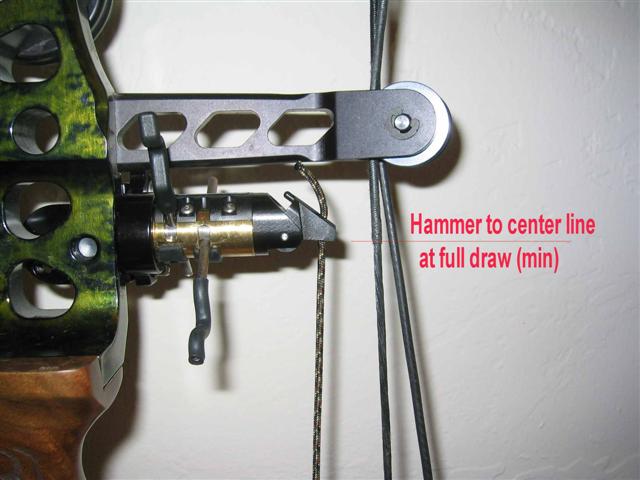 [/img][img]
Arrow hold position
[img]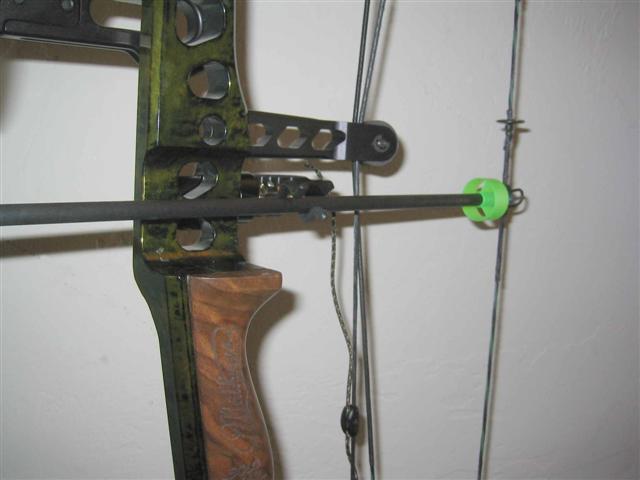 [/img]
Sizzor rest in open position
[img]
[/img]
Clearance (Tons!)
[img]
[/img]