I just finished setting up the Vapor Trail Limb Driver on my Mathews test bow. We have very good results with this rest and FOBs. A few folks have had problems with the FOBs hitting the forks or arrow holder. So I thought I better set one up.
I set the rest up per instruction. After I set the center shot and elevation I set the spring tension so the rest would pop up with the arrow installed just enough to bounce the arrow slightly but not so fast as to cause the arrow to lift pass the forks.
On my set up to have the arrow centered at the berger hole, the rest was a bit off the shelf. So I installed a Sims pad so the forks just make contact with the pad when the rest is in the full down position. I prefer not to use rubber because of bounce. 1/2 wide black peel and stick Velcro is the way to go. Use the felt side. I did not have any around the house but found this Sims pad. Lucky for my no bounce issues.
Next I installed the arrow holder and did a clearance check using the tester FOB. I notice the clearance was not as much as I like to see. I had less than 1/8 inch. If possible I like to see about 3/16 clearance. I just trimmed the holder down a bit. After the mod the arrow did not "snap" in anymore but as you can tell from the photo, I could lean the bow over past 60 degrees and the arrow did not move. I have found that some of the "snap" in holder will cause bounce if you draw back to fast. I guess I just like a cradle type holder rather than a snap in. If your fork has the built in arrow holder (bent tabs), you most likely will need to bend them at a 45 degree angle for FOB clearance.
Next I installed the pull cord to the top limbs per instructions and then pulled the cord through the rest as to just put enough tension on the pull cord to hold the rest firmly down. I did put a little pressure on the rest fork so they defected just a hair.
That's it! Took about 15 minutes was about the easiest rest I have set up. I have shot it about 40-50 times and all works great. No contact and plenty of clearance. I must admit, I have never shot a drop rest that holds the arrow up like the Limb Driver does. I like it! FOB approved rest for sure.
I hope this information will be useful.
Paul Morris
Set Up
[img]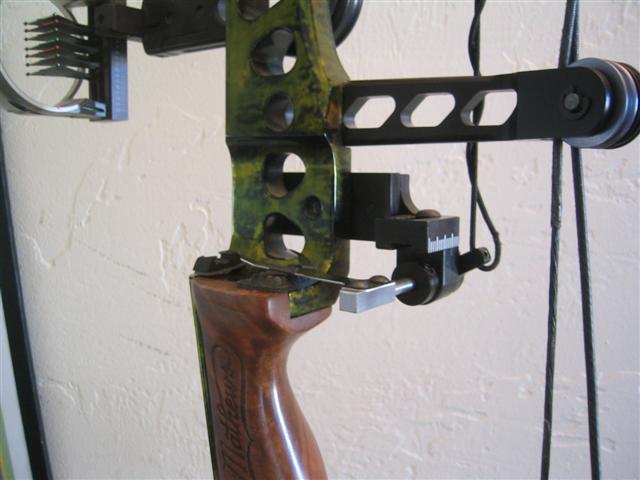 [/img]
Clearance over stock arrow holder (not enough for my liking)
[img]
[/img]
Clearance over modified arrow holder (plenty!)
[img]
[/img]
Modified arrows holder works fine!
[img]
[/img]